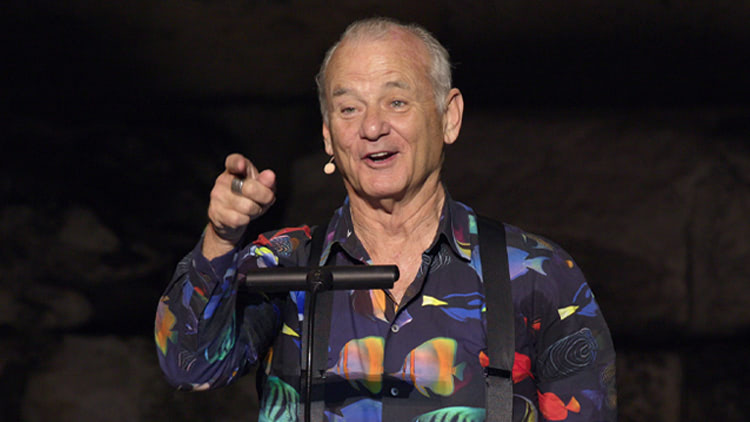 New Worlds: The Cradle of Civilization
In Theatres Now
Bill Murray, Jan Vogler, & Friends perform New Worlds in Athens
The concert-documentary film, part of the Official Selection of the 2021 Cannes Film Festival, is of the final performance in Athens of Bill Murray and Jan Vogler's performance New Worlds: The Cradle of Civilization. The film is directed by Andrew Muscato and filmed at the Odeon of Herodes Atticus overlooking the city of Athens.
On a glorious Greek evening, screen legend Bill Murray and world-renowned cellist Jan Vogler rock the Acropolis with a timeless mix of poetry and music. Captured on film by director Andrew Muscato, Murray and Vogler are joined by the dazzling Mira Wang (violin) and dynamic Vanessa Perez (piano). The international quartet enchants the Athenian audience from the 2,000 year-old stage of the Odeon of Herodes Atticus with musical reflections on love, hope and heartbreak. Spanning from Bach to Van Morrison, Whitman to West Side Story, the wildly entertaining, humorous and deeply touching program is infused with the one-of-a-kind charm of Bill Murray.
"A Show no one else could have done."
– Chicago Tribune
"With a hearty helping of deadpan expressions and ebullient hand gestures, the moment was pure joy, both for the crowd and the performers onstage."
– Billboard
A DORN MUSIC, NEDA FILM, and MAKUHARI MEDIA Production
NEW WORLDS: THE CRADLE OF CIVILIZATION
Starring BILL MURRAY, JAN VOGLER, MIRA WANG, VANESSA PEREZ
Lighting Designer RICK SIEGEL
Live Sound Engineer CHACE DESCHENE
Edited by JON CONNOR
Director of Photography MIKE GOMES
Created for the Stage by JAN VOGLER and BILL MURRAY
Co-Producers KAREN DUFFY, EMMA DOXIADI
Produced by TANJA DORN, AMANDA LIVANOU, BILL MURRAY, ANDREW MUSCATO, JAN VOGLER
Directed by ANDREW MUSCATO
Venue Info and Tickets
No venue info or tickets available in this area. Don't worry. We've got you covered. Simply enter your email address below and we'll let you know when tickets are available.