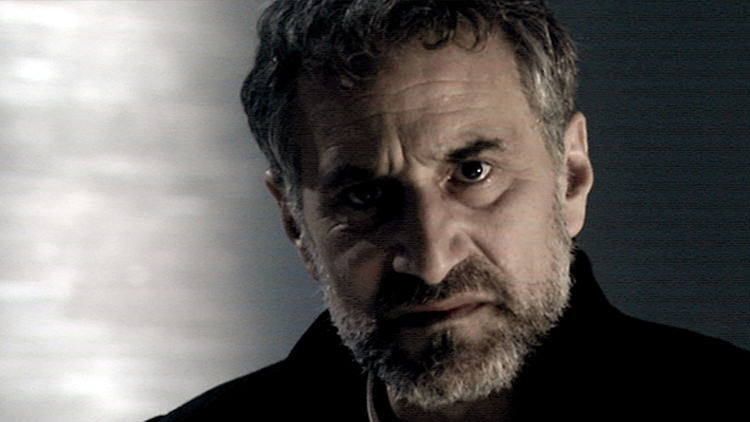 The Merchant of Venice
Begins August 8
A Shakespeare Masterpiece Classic Premieres on the Big Screen
Trevor Nunn's multi-award-winning production of The Merchant of Venice has been adapted, produced and directed by the same team who won the international Emmy for the screen version of Oklahoma! Nunn's production, set between the two world wars, was moved to Pinewood Studios immediately after the finish of its run at the National Theatre. It was produced there over three weeks, directed by Trevor Nunn with Chris Hunt.
Henry Goodman (who won the Olivier and Critics' Circle Theatre Awards for Best Actor for his performance as Shylock) leads the original National Theatre cast, which also includes David Bamber (Antonio), Derbhle Crotty (Portia) and Alexander Hanson (Bassanio).
This adaptation of Shakespeare's The Merchant of Venice transplants the setting of the film to Germany on the cusp of World War II, and is similar to the atmosphere of Bob Fosse's Cabaret.
The memorable production captures the moody power of the original production while endowing it with fresh screen intensity. The film works so well because Nunn is keenly aware that to move to film you have to create a whole new artistic entity. "The trick is to make a completely new piece of work while preserving the original piece of work. We're aiming for this to be a film in its own right, and we're making the theatrical roots work for rather than against us."
Trevor Nunn's National Theatre production of The Merchant of Venice was greeted by The Times as "the best Merchant for many years," while The Independent on Sunday called it "exemplary" and The Sunday Times thought it "magnificent."
This premiere is presented by CineLife Entertainment, Stanza Media and Ace Arts.