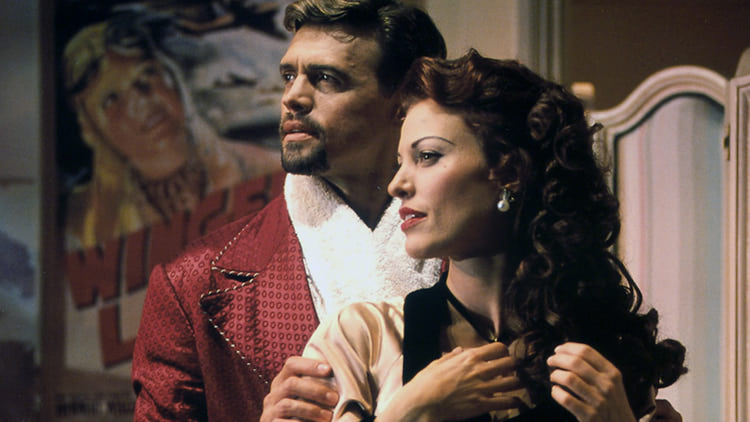 Kiss Me, Kate!
Begins June 27
Cole Porter's Broadway Gem Appears On the Big Screen
Kiss Me, Kate! is one of the most sparkling musicals of the golden age of Broadway. With Cole Porter's music and Sam and Bella Spewack's hilarious book – a take on Shakespeare's Taming of the Shrew in a 1940s theatrical context – it was a hit from the outset.
When Michael Blakemore recently staged the first Broadway revival in fifty years, with choreography by Kathleen Marshall, his glorious production enchanted both critics and audience. It swept the board at the Tony Awards! This high definition recording was made when the show transferred to London and again attracted rave reviews and packed houses. Rachel York and Brent Barrett are the stars of the show.
"An almost flawless revival of Cole Porter's 1948 Shakespeare-based musical which gives constant,  time-suspending pleasure. Michael Blakemore's production gives the action total credibility."

– The Guardian
"With its blissfully tuneful score, superbly witty lyrics and great charge of Broadway energy, this show shines like a beacon.. .. A dazzling evening of infectious pleasure that makes you go 'Wow! ' "

– Daily Telegraph

"Packed with super songs, this is a show-stopping classic American musical complete with terrific, extravagant American leads."

– The Times

"Broadway's spirit and resilience is defined in this joyous revival of one of the great musicals, with a treasure trove of Cole Porter popular hits. Its American stars delectably perform the show's varying styles of vaudeville, jazz, operatic lyricism and comic patter. You'll love every minute."

– The Daily Mail
Venue Info and Tickets
Search below for theatre near you. Click on link to purchase tickets. Be sure to download the free CineLife App or check back for additional theatres and screenings in your area.